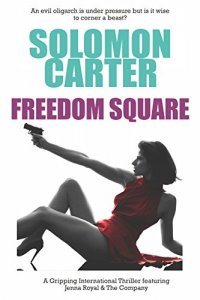 Ex-elite agent Jenna Royal will stop at nothing to track down the sister who betrayed her. She will risk her mission… she will risk her life… but will she risk the lives of her team-mates to get justice?
Eastern Europe stands on the brink of a new Russian invasion. Insurgents and fake protesters stir up trouble on the streets and the mighty Russian war machine is poised across the border.
On a mission to stop the protests turning into a bloody invasion, Jenna, Eva and Dan must use every tactic in the book… and even then it may not be enough. Overwhelming odd, conspiracy and a burning desire for revenge work against them at every level. But if Jenna loses… so will everybody else.
If you enjoy high-octane, page-turning, adventures, this book is for you. If you love the Jet series, Konkoly, Dawson and Reacher, you'll love FREEDOM SQUARE. Freedom Square is a thrilling short read series with cliff-hangers and a memorably explosive ending.
Freedom Square – Book 5 of the Last Line series – can be enjoyed as a standalone adventure. And for tons more Last Line thrills, search for the discounted full length Last Line boxed set.
Freedom Square – A Last Line adventure thriller featuring Jenna Royal and The Company

Categorised as:

International Thriller

Literature and Fiction Pulp Thriller

Conspiracy Thriller

Mens Action and Adventure

Womens Action and Adventure

Travel Adventure Fiction

Pulp Thriller