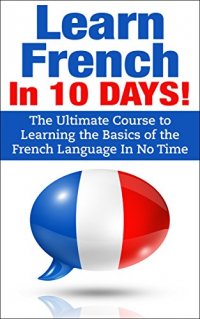 Free on 26th - 30th Apr 15


No reviews yet.
This book appears to be unavailable on Amazon.co.uk at the current time. If this is incorrect, please let us know here
Learn French in ONLY 10 DAYS. Have The Most Romantic LANGUAGE As Your Second Language NOW
French (Le Français) is one of the Romantic languages that is spoken by about 80 million people all over the world as an official language, 190 million people speak French as a second official language and about 200 million more people acquired the language. There are about 54 countries around the world who speak French Language and it is the only language that is spoken in the five continents beside English.
There are so many ways to learn French Language. This book will be available for you to learn French very fast and easy and by doing more practice you will be able to speak French as native speakers.
French Language is a beautiful language. You will find the beauty while pronouncing sounds and while see the similarity to English. So, most of people who speak English can learn French in a very short time because you will find thousands of word in French very similar to English. Also, there are thousands of words are pronounced very similar to English. So we can say that French Language could be derived from English Language.
This book Consists of Simple Chapters
Why You Should Learn FrenchEnglish vs. FrenchPronunciationGrammar BasicsFrench GourmetNumbers!Business MattersUseful Phrases for EverywhereMuch Much More !!
Download your copy today!