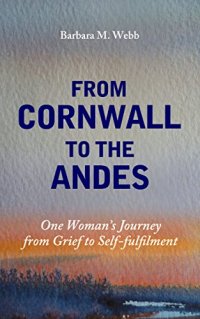 How do you cope with a terminal diagnosis for your husband?
Grief affects us all; the only thing that's different is how we deal with it to empower ourselves.

In "From Cornwall to the Andes", Barbara Webb recounts her experiences of caring for her terminally ill husband in Cornwall and, after his death, dealing with the pain of his loss. In this poignant memoir, Barbara takes us on an emotional journey from grief to self-fulfilment.

At the same time, we travel with her from Cornwall to Ecuador where she worked as a volunteer at the Teatro Bolivar, in Quito for several years. From there she went to Argentina, Colombia, Peru and Chile. Through her travels in South America she finds a new rhythm to life.

This true story is interspersed with accounts of some of her other travels, as she has visited 48 countries and lived in seven.
For book reviews go to Barbara's website:

www.cornwall2theandes.com