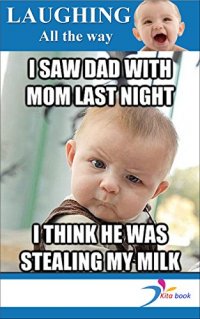 Free on 9th - 13th Aug 17



or borrow free on Kindle Unlimited.
No reviews yet.
150 Jockes, trick questions, fun brain teasers, riddles with pictures for kids
One of the best parts of parenthood is getting to watch your child develop their own sense of humor. You get to see them work through the logic of different punchlines and discover what kinds of humor they gravitate to the most. And there's nothing better than seeing how happy they get when they make someone laugh with a funny joke.
To help you maintain your sanity, Kita Book put a list of 150 funny kid jokes — and ones that'll get the whole family laughing, too. So, whether your little one is pretty punny, loves knocking back knock-knock jokes, or appreciates easy riddles, we've got funny jokes for every mini comedian and comedienne. Remember, practice makes perfect: Have your kiddos try their tricks on siblings, grandparents, your babysitter, your nanny, or even the dog to get more confident!
Young children thrive in the brain when they laugh a lot, here are 10 ways to make children smile, Kita Book please share with the reader:
1) Never underestimate the power of a good tickle fight.
2) Tell your littles that they are not allowed, under any circumstance to laugh or smile.
3) Depending on the age of the kiddos, sing a nursery rhyme or the abc's and mess up the words or letters but insist you are singing it correctly.
4) Play 'Red light / Green light' and say a funny word instead of the standard "red light."
5) Have a funny face contest.
6) Pretend you are sleeping, add in a few exaggerated snores for good measure, then wake up and silly startle them.
7) Play a classic game of peek-a-boo or hide-n-go seek.
8) Tell a joke or take turns making up jokes.
9) Insist that you are the child and your kiddo is the parent and act super crazy as they try to take care of you.
10) Tell them that if they eat their entire meal they can have broccoli for dessert.