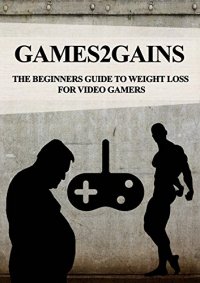 Free on 6th - 10th Apr 15



or borrow free on Kindle Unlimited.
No reviews yet.
The Beginners Guide To Weight Loss For Video Gamers
A Guide For Gamers Helping You To Lose The Weight And Maximize Your Gaming Potential AT THE SAME TIME!
Today only, get this Amazon bestseller for just $0.99. Regularly priced

at $4.99. Read on your PC, Mac, smart phone, tablet or Kindle device.
Hey Gamers,
My names Danyon Togia. I'm about to reveal to you the method my proven 7-Step strategy to lose weight and increase your gaming skills at the same time!
I know this seems unrealistic, but I can say that with confidence because this is exactly what I used to lose 20KG's in 3 months!
Here's just a few results I have personally experienced from using the strategies in this book
-Reached the Top 1% of League of Legend players in the world

-Went from 125Kgs to 105Kgs within only 3 months!

-I went from shy, antisocial, too scared to leave my room to energetic, out-going and confident!
I can understand how easy it is to be overweight and a gamer. I'm in the top 1% of League Of Legends Players in the world. But getting to that point was difficult. Along the way I stopped socializing, ate whatever junk food I felt like eating, didn't exercise and ultimately let myself go. I decided to make a change for myself. I started exercising, eating the right foods and dropped 20KGs in 3 Months! I'm feeling the most happiest I've felt in a long time, and I want to share that experience with you.
If you're a Gamer and have slowly watched the scales tip up and up and are SICK and tired of being overweight, then this book is for you! The truth is, most Gamers are overweight because of bad habits that are easy to form when gaming. I understand, and that's why I've written this book to help you kick those bad habits and increase your Gaming skills AT THE SAME TIME. This book goes into a 7-Stage easy-to-follow strategy that will be shedding the weight in no time!
Here Is A Preview Of What You'll Learn…
How To Lose Weight Without Counting CaloriesHow to Increase Video Gaming Skills With The Right NutritionHow To Develop An Exercise Plan That You Love And Won't Wanna Give UpHow I Used A Journal To Reach The Top 1% Of LoL Players In The WorldHow To Control Your Mind To Lose Weight The Pain-Free WayThe Only Formula You Need To Know To Lose WeightThe 1 Secret I Used To Never Give Up And Lose The 20KgThe EXACT Nutrition And Exercise Plan I Used To Lose 20Kgs In 3 MonthsMuch, much more!

Download your copy today!
Tags: Weight Loss, Weight Loss Motivation, Nutrition Plan, Exercise Plan, Resistance Training, Fat Loss, Exercise for Video Gamers, Weight Loss Strategy, Weight Loss Plan, Exercise Strategy, Cardio Strategy, Cardio Plan, Cardio Workout, Workout