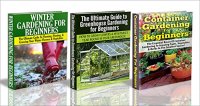 Container Gardening For Beginners: The Essential Basics Of Container Gardening To Growing Fruits, Vegetables & Herbs In The Smallest Spaces! & Greenhouse Gardening for Beginners:How to Grow Flowers and Vegetables Year-Round In Your Greenhouse & Winter Gardening for Beginners: The Ultimate Guide to Planning, Planting & Growing Your Winter Flowers and Vegetables
Container Gardening
Why Container Gardening? Your Essential Gardening Tools and Equipment'sContainers to Choose From Preparing your SoilIdeal Fruits for your Container GardenChoosing Vegetables for your Container GardenGrow your Herbs in ContainerEssential Care and MaintenanceMuch, much more!
Greenhouse Gardening
A Short History of the GreenhouseWhy Grow Plants in a Greenhouse? How to Build Your GreenhousePreparing for Growing SeasonPlanting in Cold WeatherPlanting in Warm WeatherMuch, much more!
Winter Gardening
Winter Gardening – The Basic FactsPractical Guides to Winter GardeningSome Useful Tips when Gardening During the Winter SeasonList of Basic Winter Gardening Supplies for BeginnersBest Types of Plants to Grow During the Winter Season
Download right now and get this great box set!