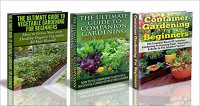 The Ultimate Guide to Companion Gardening for Beginners: How to Use Companion Plants for a Successful Flower or Vegetable Garden & The Ultimate Guide to Vegetable Gardening for Beginners: How to Grow Your Own Healthy Organic Vegetables All Year Round! & Container Gardening For Beginners: The Essential Basics Of Container Gardening To Growing Fruits, Vegetables & Herbs In The Smallest Spaces!
Companion
What is Companion Gardening?Phases of Companion GardeningCategories of Companion GardeningCompanion Planting ChartPerfect CombinationsMuch, much more!
Vegetable Gardening
Real Men Know Their DirtSmall Plots Make for a Great Start Your Personal Salad Bar 3The Plot Thickens!Finally it's Time to Plant!Watering Your PlantsTrimming and Harvesting and Final ThoughtsMuch, much more!
Container Gardening
Why Container Gardening? Your Essential Gardening Tools and Equipment'sContainers to Choose From Preparing your SoilIdeal Fruits for your Container GardenChoosing Vegetables for your Container GardenGrow your Herbs in ContainerEssential Care and MaintenanceMuch, much more!