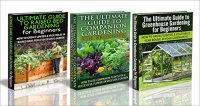 The Ultimate Guide to Companion Gardening for Beginners: How to Use Companion Plants for a Successful Flower or Vegetable Garden & The Ultimate Guide to Raised Bed Gardening for Beginners: How to Grow Flowers and Vegetables in Raised Beds for a Successful Garden & Ultimate Guide To Greenhouse Gardening & Ultimate Guide To Companion Gardening For Beginners
Companion
What is Companion Gardening?Phases of Companion GardeningCategories of Companion GardeningCompanion Planting ChartPerfect CombinationsMuch, much more!
Raised Bed Gardening
An OverviewBuilding The Raised BedsIntensive GardeningGreat Garden Vegetables for BeginnersEasy to Grow Flowers for BeginnersRaised Bed Gardening TipsMuch, much more!
Greenhouse Gardening
A Short History of the GreenhouseWhy Grow Plants in a Greenhouse? How to Build Your GreenhousePreparing for Growing SeasonPlanting in Cold WeatherPlanting in Warm WeatherMuch, much more!