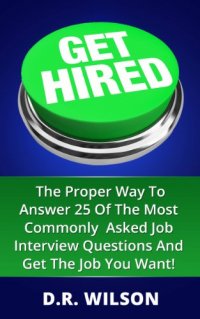 Are you anxious about nailing that interview for your dream job? Is the impending interview causing you many sleepless nights and leaving butterflies in your stomach? Well, relax, it' natural to be nervous before the big day; after all, YOUR DREAM JOB AWAITS YOU. But where do you find the courage to know you will be able to answer the questions thrown at you? What if you are unable to answer some of the questions the interviewer might ask? This is where this book steps in, putting all your interview woes to rest.
How can this book help you?
How would you feel if you had the ANSWERS TO TE MOST COMMONLY ASKED INTERVIEW QUESTIONS IN ONE SINGLE BOOK? Not only will such a source of knowledge PUT YOUR ANXIETY AT BAY, but also help you PREPARE FOR THE BIG DAY. This book can provide you with answers to some of the most important questions interviewers ask in job interviews. Here are some of the most examples you will find covered in this book:
· Common interview questions with the BEST ANSWERS
· Trick job interview questions and how to answer them
· How to avoid telling your weaknesses to your interviewers?
· Answering odd ball questions THE SMART WAY
· What not to say during a job interview
· And much more!
Who needs this book?
Everyone who has ever fumbled on these typical questions: "Have you ever been fired?" or a real killer question: "Can you explain the gap in your job history?". These 2 questions, along with 23 others are answered in this book. Having problems selling yourself to your interviewer? If you answered in a big nod, then you understand why YOU NEED THIS BOOK THE MOST.
Get the best out of yourself by honing your interview skills to the hilt. GAIN CONFIDENCE IN YOURSELF and let the world know you're more than READY TO TACKLE ANY INTERVIEW. If you want to make the interviewer feel comfortable hiring you, then you have to INVEST IN THIS BOOK.
Grab your dream job today!!! Make the most out of your job interview by reading this book and understanding some of the best questions asked today!