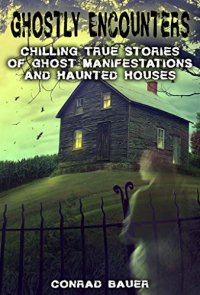 Have an interest for the paranormal? Ghosts and haunted houses? This collection of true cases of ghostly encounters and paranormal activities will surprise you!
Download FREE with Kindle Unlimited
Whether they?re actually real or not, ghosts have been a part of our lives for as long as humanity has existed, and they are unlikely to stop being so anytime soon. We are always intrigued by these phenomena and can?t help but explore to try to learn more about them. This book will help you with exactly that, as it has many cases of ghost encounters explained in high detail and with as little bias as possible.
Have you ever woken up from a deep sleep and thought that you saw or heard something unusual in the middle of the night? Have you ever had a strange impression that someone was watching you? These are frightening experiences by their very nature, but for most of us, these fleeting glimpses of extrasensory unease quickly subside. For others, however?well, let?s just say that their experience goes a little bit further.
In this book, we chronicle the stories of individuals who claim to have encountered more than their fair share of ghostly activities. We are not supporting or advocating any of the views, theories, or suggestions presented in this ghost anthology; we are simply presenting these alleged ghostly encounters as it?s claimed they happened, on a case-by-case basis so that you can be the judge of their veracity.
Some of the cases you?ll find in this book are:
?Places and even people being haunted
?Frightening visions
?Ghostly roommates
?A mysterious cult
?And many more
Read on your favorite devices such as Kindle, iPhone, iPad, Android cellular phone, tablet, laptop, or computer with Amazon's free reading Kindle App.
Scroll back up and click the BUY NOW button at the top right side of this page for an immediate download!