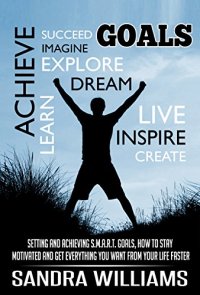 Free on 6th - 9th Apr 15



or borrow free on Kindle Unlimited.
No reviews yet.
FREE GIFTS INSIDE
Inside you will find:

1. 60 Second Life Success Quiz (With Personalized Report!)

2. Bonus at the end of the book.
Find Out How To Set Goals And Achieve Them! Do Not Procrastinate Ever Again!
Today only, get this Amazon eBook for $2.99 $9.99!

Read on your PC, Mac, smartphone, tablet or Kindle device.
Are you aware that all successful people have one thing in common? They set goals and achieve those goals that has been set. How many times have you set goals either not to achieve them or you just end up forgetting that you even set any goals in the first place? Probably several times or else you would not be here. The greatest problem for many people is setting very challenging goals such that it becomes hard to achieve these goals.
Are you tired of setting goals that you never achieve? Do you want to know how to set goals that you will achieve and remain motivated to keep achieving more and more? This book contains all the information you need to set S.M.A.R.T goals as well as how to achieve these goals so that you can be motivated to do much greater things in your life.
This book contains actionable strategies you should know about setting and achieving goals. Read on to learn how to do it!
Here Is A Preview Of What You Will Learn…
Why Set GoalsHow is Goal Setting Going to Improve YOUR LifeGoal Setting On A Physical LevelGoal Setting On A Mental LevelGoal Setting On An Emotional LevelSetting And Achieving S.M.A.R.T. GoalsHow to Make Your Goals SpecificHow to Make Your Goals MeasurableWhat Is RPMHow To Stay MotivatedAchievable And Realistic Goal SettingHow To Set And Accomplish Goals With TimelinessS.M.A.R.T Goal Example Step By StepVisualizing Your GoalsFREE BONUS At The End Of The BookAnd Much More!

Download your copy today!

Take action today and download this book with big discount for $2.99 $9.99. Limited time offer!

Don't wait for next year's resolutions, read this short e-book and change your life now!

Scroll to the top of the page and select the "add to cart" button.
Check Out What Others Are Saying…
"I always prefered taking shortcuts, this book teaches how to work 'smart' instead of 'hard'." – Lily

"No more procrastination! After reading it I realized what was wrong with my motivation, finally I'm getting things done." – Tim

"Setting goals and planning can save months and even years, I'm glad I've found this book." – Noah
Tags: goals planner, goals journal, self help, motivational, goals book, s.m.a.r.t goals, smart goals, goal setting, goal setting success, goal achievements, goal setting guide, goal worksheets, goal motivation, goal setting workbook, success principles, success habits, success motivation, success mindset, success tips, eat that frog, self improvement, improve self esteem, stress management, goals brian tracy, motivational books, time management, getting things done, procrastination, new year's resolutions, resolutions, disciplined entrepreneurship, positive thinking, happiness, achieving goals, accomplish goals, stay motivated, get everything faster