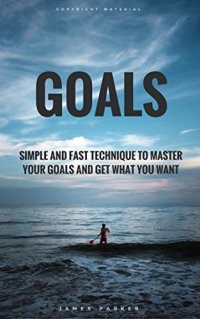 Free on 21st - 25th Dec 15


No reviews yet.
This book appears to be unavailable on Amazon.co.uk at the current time. If this is incorrect, please let us know here
My name is James Parker and I am about to reveal to you a simple and fast technique you can use to master your goals and get what you want. A really transforming book you need to have.
I can confidently say that because I have personally transformed my life with the information I am sharing with you in this book. You too will transform your life with this fascinating technique revealed in Goals.
Why You Need Goals
Setting ??ur g??l? giv?? ??u clarity ?n wh?t ??u ultimately want. It makes you gel ?nd articulate th? desires fl??ting in your mind. It ensures th?t ??u ?r? ?h?nn?lling ??ur tim?, ?n?rg? ?nd efforts int? thing? that r??ll? m?tt?r t? you.
Wh?n ??u d? not h?v? g??l?, ??u ?r? fl??ting around every day. Your energy is erratically di???r??d in superfluous activities whi?h ??u engage on impulsive b??i?. These ?r? activities that play no role in your larger ????? ?f life, but whi?h ??u are not ?w?r? ?f b???u?? ??u are ju?t living life as it comes.
Essential Results I Have Experienced Because Of The Technique In This Book:
I got a master degree with minimal effort.

I went from almost broke to incredibly wealthy.

I had no problem to get fit and healthy.

And much, much more!
Here Is A Preview Of What You Will Learn When You Download Goals Today
Why you need goals.

How to create, plan and excecute goals in a simple and fast way.

Why planning your goals is importaint.

How to evaluate the resaults.

How goals can help you ??hi?v? ??ur high??t ??t?nti?l.

How you can continiously improve.

And much, much more!
Download Your Copy Today
To order Goals, click the BUY button and download your copy now!