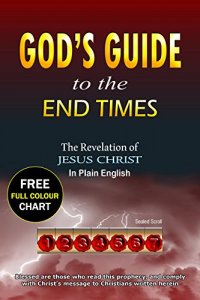 Free on 29th May 18



or borrow free on Kindle Unlimited.
No reviews yet.
Includes FREE giant [11 x 56 inch] full colour chart via download or Email.
Read in plain English what God has revealed concerning the end of the world, including:
oThe intense trial that is to come upon the world to clarify the faith of unfaithful Christians – And how we can avoid it.
oThe terrible trouble that is to come upon the world to prove the defiance of unrepentant people – And why they will not escape it.
oThe divine judgement that awaits every person to decide the destiny of all humanity – And exactly who will go where, when and why.
This is the book of Revelation in plain English – All the metaphorical language is translated. All the informative interludes are clarified. And every who, what, where, when and why, is answered.
Christ says that this trial, trouble and judgement will come upon the world abruptly, all of a sudden, without warning. Be informed, so that you can be prepared.
Whether you are a church leader, a Bible believer, or a person yet in search of the Truth, God's Guide To The End Times will once and for all resolve any ignorance, misunderstanding, or curiosity, that you may have concerning God's plan for the end times.
Includes FREE giant chart.