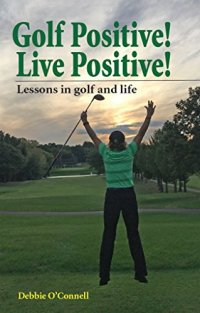 Free on 26th May 17



or borrow free on Kindle Unlimited.
No reviews yet.
GolfPositive! Live Positive! by Debbie O'Connell (award winning LPGA Teaching professional who wasnamed among the 50 Best Women Teachers in America by Golf Digest), isa vibrant handbook of learning and development.
Filled with colorful anecdotes,personal experiences and instructional guidelines, Golf Positive! LivePositive! provides an entertaining and energetic path to identifying,understanding and ultimately reaching your goals – both on and off the golfcourse!
Successfulpeople–especially successful athletes–often have a tried-and-true plan.Nationally acclaimed LPGA professional and Golf Positive Founder DebbieO'Connell shares a proven approach that will inspire anyone to improve theirgame and dare to dream big.
UsingCORE Triumph!TM –a four-step blueprint for success–O'Connell doesn't justencourage readers to set lofty goals, she outlines each step toward creating anindividual action plan.
Whether you're a golfer or someone who wants to wake upeach morning excited for the day ahead, O'Connell shows how these steps, alongwith repetition and perseverance, can improve your game and your life.