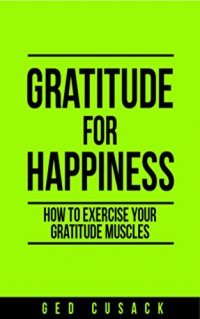 Free on 29th Nov 17 - 3rd Dec 17



or borrow free on Kindle Unlimited.
No reviews yet.
Gratitude for Happiness: How to exercise your gratitude muscles
This book is written to be used at any stage of your gratitude journey.
Our gratitude muscles are like any muscle in that if they haven't been used for a while they may need warming up.
This book provides you a process to help you flex those muscles and build a gratitude habit of building on your happiness.
The issue that most of us have is that we focus more on what we haven't got than what we have got. In a difficult financial climate, it can seem that we are struggling and have little to be grateful for.
The sixty sections and over four hundred and ninety genuine gratitude statements provided here cover a wide spectrum of your life, including finance, relationships, and even basic shelter.
In order to obtain the most benefits from Gratitude, you should express emotions for the things that you are grateful for.
Just reading a book isn't going to provide you the benefits you seek so this book provides you an exercise at the end of each section.
Whether prefer to progress steadily or are a binge reading type of person, this book suggests three optional timeframes to develop your habit.
It is widely accepted that gratitude is one of the secret sauces that successful people use regularly for their happiness.
Read this book, work through the exercises, express your emotions for even the smallest gratitude's and you'll be amazed by the results.