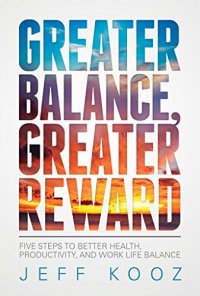 Free on 30th May 17



or borrow free on Kindle Unlimited.
No reviews yet.
Also Available as:
Print Edition

Do you ever feel stressed out? Have you ever tried to lose weight only to regain it again? Do you sometimes feel like the harder you work, the less productive you are?
Greater Balance, Greater Reward provides a surprisingly simple way to overcome these challenges–by eliminating subconscious resistance to change!
When author Jeff Kooz entered a stressful work environment after college, he struggled with obesity, anxiety, and burnout. He tried many popular remedies, but they only led to repeated failures and frustration.
Then one day he experienced an "aha moment" that led to him losing fifty pounds in ninety days and keeping it off for ten years. Following the same five-step system, Kooz has recorded albums in three months and written books in just three days!
You too can tap into this powerful problem-solving system, which Kooz brings to life through a heartwarming story about a young professional desperately seeking balance. The book then guides you through the five steps that will help you experience your own "aha moment."
If you're tired of "spinning your wheels," isn't it time for a fresh perspective? Read this book and discover the secret to better health, productivity, and balance today!