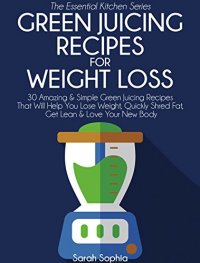 Green Juicing For Weight Loss
Wonder If Green Juicing will actually work for you? Will it help you lose weight, detoxify your body, and become healthier?
Could Green Juicing Really Be the Cure You're Looking For?
Well, you're going to love " Green Juicing for Weight Loss Recipe Cookbook" because it will absolutely help you become healthier, lose weight, and detoxify your body.
Not only will you become healthier by implementing juicing into your diet.
You will also love these delicious juice varieties we've provided in this cookbook.
In this book you'll learn:

How to Green Juice

What to Green Juice

Green Juice Recipes for Weight Loss

Green Juice Recipes for Health

Green Juice Recipes for Detox

Other Amazing Recipes that are delicious-
And much, much more!
But not only that, you'll also get the 3 special ingredients that shred weight immediately that most people don't think of when juicing.
So, start giving your body what it needs today and get the best book available on green juicing for weight loss.
You're going to love it, and you'll never feel the same again.
Grab your copy of "Green Juicing Recipes for Weight Loss: 30 Amazing and Simple Green Juicing Recipes That Will Help You Lose Weight, Shred Fat, Get Lean and Love Your Body Fast" by clicking the buy now button.
P.S Don't forget to grab your awesome free gift inside the book, just our way of saying "thanks for buying"
A Book From The Essential Kitchen Series – Check Us Out On Facebook