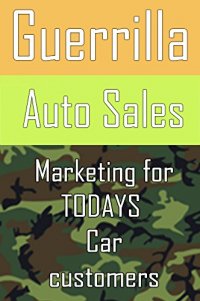 Original draft version was uploaded by mistake without editing. This version has been fixed.
Guerrilla Auto Sales was designed and written by a salesman for salesman. Justin Desjardins background in marketing has made him a huge success in the car industry. The guerrilla marketing techniques used in this book can be the difference to mild success in the car business and being wildly successful.
Justin's humorous take on the car sales industry as a whole makes the book easy to digest and fun to read. This book wasn't made for management; it was made for the car salesman that wants to maintain a consistent quantifiable success rate on the sales floor.
If you hate making cold calls and dealing with outdated orphan lists this is the book for you. Justin will show you how to come up with killer marketing plans, to keep your personal sales business on the razors edge of the industry when everyone else is crying for customers.
Justin was successful on the sales floor and maintained top positions in ever dealership he worked for using these easy to apply techniques to maintain a steady stream of customers straight to him.
This is not a how to sell a car sales book. This book was designed to build a thriving business for yourself and keep customers flowing in and buying cars for the rest of your career.
Car sales are fun and Guerrilla Marketing is an enjoyable way to succeed in the business. Justin promotes simple, cheap, and easy ways that no one else is doing to make your prospecting fun and ahead of the curve on your competition.
Justin also shares ways of keeping your business life in its place. The sales industry has a tendency of straining relationships and making you spend more hours at work then at home. You can balance both and still be wildly successful with these easy to implement techniques and strategies to work smart not hard.
Enjoy!