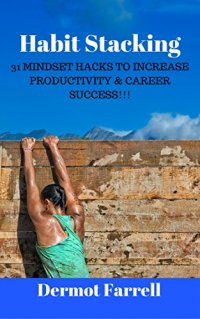 Free on 27th - 31st Aug 17



or borrow free on Kindle Unlimited.
No reviews yet.
Are you struggling to lead the life which you want to lead?
Do you have goals yet you seem unable to deliver on them?
Are you looking for simply resources to kick start your journey towards success?
If you answer yes to any of these questions then it's time to access yourself and make some changes in your daily habits. Who you are tomorrow is a direct consequence of how you live today and how you live today is a direct consequence of the habits which you have been following.
This book addresses short habit hacks which will change your physical, mental and success orientated habits.
The 31 habits covered in this book are:
BODY
1.WORK OUT
2.EAT POLYUNSATURATED FATTY ACIDS
3.SLEEP
4.DISCONNECT
5.DRINK WATER
6.PRACTICE YOGA AND GO TO THE GYM
7. SMILE
8. LAUGH
9. EAT BRAIN FOOD
MIND
1.MEDITATE
2.WARM UP YOUR BRAIN
3.DEVELOP METACOGNITION
4.IMPROVE MENTAL STORAGE
5.REINFORCE LEARNING VIA DIFFERENT MODALITIES
6.REINFORCE LEARNING WITH FREQUENCY
7.REINFORCING VIA CURIOSITY
8.THINK YOURSELF MORE ATTRACTIVE
9.SELECTIVE FOCUS
10.MIND PALACE
11.EYEBROWS AND CREATIVITY
12.SING AND LAUGH YOUR WAY OUT OF PAIN
13.TIME MANAGEMENT SELF EVALUATION
14.THE FIVE MINUTE REVIEW
SUCCESS STRATEGIES
1.DEVELOP A LIFESTYLE
2.PRODUCTIVE FAILURE
3.COMPLIMENTS
4.AIM FOR THE SUN AND SETTLE FOR THE MOON!
5.NEGOTIATION: AIM KIND OF HIGH AND SETTLE FOR LESS
6.TAKE THE OFFENSIVE
7.WINNING PEOPLE OVER LITTLE BY LITTLE BIT BY BIT
8. CONSISTENCY WINS THE DAY!
Get started today with changing your habirs and removing the blocks to the success which you are aspriaing to in your life!