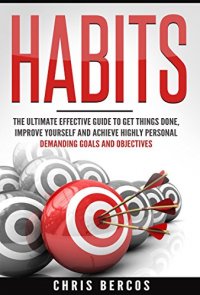 Bargain on 21st - 25th May 17



or borrow free on Kindle Unlimited.
No reviews yet.
A very direct, clear and concise description of how powerful habits are and how to use them to succeed and be the best version of ourselves.
We all want to be better version of ourselves. However, desire alone does not translate into fulfillment. Therefore, you need to do much more than just want to become a better you. So what exactly do you need to do? How can you become that better you?
Well, as Will Durant aptly put it, "We are what we repeatedly do. Excellence, then, is not an act, but a habit." In simple terms, everything you are today is a product of the cumulative effect of your habits throughout your life! Are you aware that your habits determine who you are? If you have bad habits like procrastinating, eating unhealthy, waking up late, watching too much TV etc, you are unlikely to achieve your goals and objectives, as these are impediments to your success. However, if you form good habits like waking up on time, setting goals and achieving them, getting things done among others, you are likely to be a happier person and this is definitely a better version of you.
If you want to learn more about habits, and how to form habits that will ensure you achieve your goals and objectives, then this is the book for you. This book has everything you need to know about habits, how habits affect our success and how to form habits that will enable you to improve yourself and achieve your goals and objectives.
Here Is A Preview Of What You Will Learn…
Habit FormationWhy Habits Are ImportantHabits To Improve Your HealthHabits To Help You Increase Your Physical ActivityHabits On How You Can Improve Your RelationshipsHabits To Build To Hone Your Skills
Start the adventure, begin improving yourself by getting this Kindle book for only $0.99!