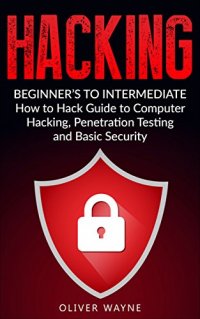 Free on 8th - 12th Mar 17



or borrow free on Kindle Unlimited.
No reviews yet.
Your Are About To Discover What All The Best Hackers In The World Are Doing!

And Most Important, Learning Step-by-Step How to Do It.
Computer hacking is the act of "breaking" into a computer system or network by modifying hardware or software to do things that the manufacturer definitely did not intend them to do. Hacking used to be an activity done purely for fun and the spirit of adventure: an activity that people got into, individually or as a collective, just to see if they could succeed.
Nowadays, however, when people think of hacking they think of hijacking hardware or software — of getting these things to perform all kinds of malicious actions. Every week we read about another major company or financial institution that has been hacked into, resulting in the theft of customer data, or massive amounts of money, or information held by financial insiders, or even trade secrets. Now more than ever, it's vitally important that you keep both your computer and your Internet connection safe and secure so that you don't become the next victim.

You need this book.
Here Is A Preview Of What You'll Learn…
?Finding Exploits and Vulnerabilities

?Penetration Testing

?SQL Injection

?The 5 Phases of Penetration Testing

?Reconnaissance

?Scanning

?Gaining Access

?Covering Tracks

?Basic Security

?Protecting Yourself

?Top 10 Security Practices Everyone Should Be Following

?Much, much more!
Download your copy today!
30-Day Money Back Guarantee
This Book Will have a 70% Launch Discount for 15 Days, You Can Get it for Only 0.99! Scroll Up the page and Click the Orange button "Buy now with 1-Click" and Start Hacking Now!