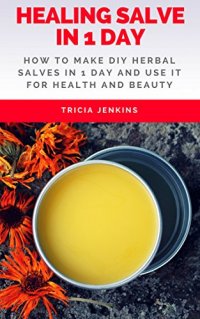 Free on 29th Mar 17 - 2nd Apr 17


No reviews yet.
CREATE YOUR OWN HEALING SALVE IN JUST ONE DAY
Do you want to learn how to create organic herbal salves yourself and use it to treat your family?
Are you skeptical of Big Pharma and want to make sure that your family only get the best treatment without any toxic chemicals?
Do you want a simple step-by-step guide that will get you started creating salves within an hour of reading the book?
Your step-by-step guide
In my short book, you will learn all you need to know about herbal salves.
You will learn what it is, how to treat illnesses with it and you will get the step by step instructions and recipes to start creating your first glass of natural DIY healing salve.
Healing salve is an oil based ointment and is one of the best ways to ensure your family's health and your own beauty.
Organic herbal salves should be stored in your medicine cabinet and can be applied to cuts, bruises, burns, bites, stings, rashes, acne, scrapes and boils.
It can also used as a beauty product and has long been known as a powerful anti-wrinkle medicament as well as an effective way to soften and moisturize the skin.
The book is meant for beginners, with no prior natural medicine experience. I will walk you through what you need to do to get started – step by step, nothing is left out.
You will learn:
What herbal salves are
How to use them for healing
How to use them for beauty
What to buy to get started
5 fundamental healing salve recipes:
1: All-Natural Antibiotic Salve
2: Burn Salve
3: All Purpose Healing Salve
4: Anti-Aging Salve
5: Healing Massage Salve
+ FREE BONUS
Much more…
Are you ready to have your first glass of DIY healing salve on your table 24 hours from now?
Press the "BUY NOW" button now and get started right away!
Tags: organic healing balm, homemade salve, salva, herbal salve recipes, organic cosmetics, herbal body care, holistic salve, medicinal salve, medicinal cream, herbal salve remedies, herbal remedies, herbal remedies, antivirals, antibiotics, DIY homemade essential oils, herbal medicine, lavender oil, aromatherapy, homeopathy