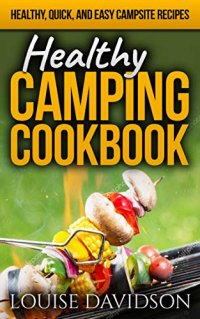 Eating healthy on a camping trip? Yes, it's possible with delicious and easy to make camp recipes the whole family will love from breakfast to dessert!
Download FREE with Kindle Unlimited
Feeling like you always choose less healthy meals for your camping trip even when you want to make something healthier but just do not know what? This cookbook has got all your needs for healthy camping recipes covered, with all kinds of healthy camping recipes prepared in various methods and suited for various diets so that no person or dishes are left out!
The recipes in this cookbook often have components you can choose to prepare at home to make life easier at the campsite, and they use a range of cooking methods that are fun and interesting: foil packs, skewers, Dutch oven, and cast iron skillets.
With this cookbook, discover how to use these outdoor methods to prepare and serve a variety of meals you love to make at home. You?ll be surprised how easy it is to make healthy versions of some of your favorite dishes like chicken cacciatore, butter chicken, and teriyaki steak skewers with a minimum of planning and effort, all at the campsite.
Our focus here is on healthy eating, so you?ll see that we use a lot of vegetables, lean protein, whole grains, and healthy fats. We have recipes for paleo, dairy-free, and gluten-free diets, so no matter who?s coming to the table, you?ll have something for them!
Inside, you?ll find:
?All you need to know about various camping healthy cooking methods including foil packets, grilling, and cast iron Dutch oven
?A quick guide on healthy snacks to take with you on a camping trip
?Nutritious breakfast recipes such as the Healthy Carrot Cake Pancakes and the Egg White Omelet
?Tasty sandwich and wrap recipes such as the Light Philly Cheese Wraps and the Black Bean Burritos
?Heartwarming soups and stews recipes such as the Chili Con Carne and the Tomato Chickpea Soup
?Easy to make vegetable and side recipes such as the Foil Pack Light Blooming Onion and the Mango Salsa Stuffed Sweet Potatoes
?Wholesome chicken recipes such as the Hawaiian Chicken Skewers and the Bourbon Grilled Chicken with Salad Greens
?Delightful fish and seafood recipes like the Lemon Salmon Packets and the Grilled Trout with Herbs
?Satisfying pork recipes like the Cajun Pork Loin and the Honey Mustard Pork Chops
?Healthy beef recipes like the Healthy Joe Stuffed Peppers and the Teriyaki Steak Skewers
?No-fuss dessert recipes such as the Healthy the Grilled Fruit Skewers and the Healthy Dutch Oven Berry Cobbler
All recipes come with a detailed list of ingredients, cooking and preparation times, number of servings and easy to follow step-by-step instructions..
Read on your favorite devices such as Kindle, iPhone, iPad, Android cellular phone, tablet, laptop, or computer with Amazon's free reading Kindle App.
Let?s get started! Scroll back up and click the BUY NOW button at the top right side of this page for an immediate download!