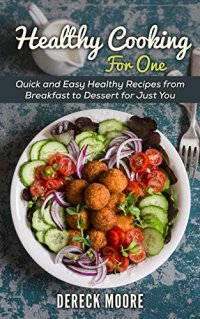 This cookbook is all about recipes that serve one portion made with healthy, nutritious ingredients. If you were wondering whether cooking can be fun when you're cooking only for yourself, the answer is an absolute yes!
Download FREE with Kindle Unlimited!
The number of single-person households in the U.S. is over 35 million, and it's growing every year. But cooking for one isn't just for people who live alone; it's also great, for example, if you have picky eaters in the family or people who travel often and leave home their better half. In this cookbook, you will only find ingredients that are healthy and delicious at the same time?things that are good for us. From delicious breakfasts with perfect nutritional values to main dish recipes that are light and rich in Protein.
Cooking for one doesn't have to be a pain and take a lot of time. All recipes require no more than 30?35 minutes in the kitchen, and most of them require no more than 20 minutes.
Inside, you will find:Tips for cooking healthy one-serving mealsHealthy recipes from breakfast to dessert, including snacks and small bites.BreakfastBanana PancakesAvocado ToastSmoothie BowlChicken and Other PoultryLemon Garlic Baked DrumstickCreamy Tuscan ChickenDuck Breast with Orange SauceBeef, Pork, Lamb, and VealLamb Stuffed ZucchiniVeal PiccataPineapple Pork Stir-FryBeef and BroccoliFish and SeafoodHoney Garlic ShrimpHealthy Baked SalmonGarlic Herb Frilled Tuna SteakVegetarianCoconut Squash CurryCaponata PastaEasy Vegetarian QuesadillaSnacks and Small BitesCheese BallsGreek Salad with Goat CheeseGrilled PolentaDessertsPeanut Butter Mug CakeNo-Bake Cookie BallsHealthy Chocolate Mousse
All recipes come with a detailed list of ingredients, number of servings, prep and cooking times, easy to follow step-by-step instructions, and nutritional facts.
Read on your favorite devices such as Kindle, iPhone, iPad, Android cellular phone, tablet, laptop, or computer with Amazon's free reading Kindle App.
Scroll back up and click the BUY NOW button at the top right side of this page for an immediate download!