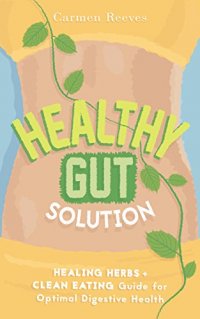 Free on 29th Dec 15



or borrow free on Kindle Unlimited.
No reviews yet.
Also Available as:
Print Edition

4 FREE BONUS BOOKS INCLUDED
(WITH KINDLE EDITION)
Healthy Gut Solution: Healing Herbs & Clean Eating Guide for Optimal Digestive Health
Learn how to improve digestion, modify your diet, and use herbs and lifestyle changes for better energy and health today!
The path to a healthy gut and better digestion doesn't have to be difficult. Placing priority on a healthy gut is incredibly important in bringing your natural wellness to its very best state. Ever wonder why you struggle with certain digestion symptoms and issues, reaching out for specific remedies or even medications for better gut health – and seem to find no improvement? Do certain steps you take fail to work right away, whether digestion-based or related to other aspects of your health? Do you even go on healthy regimens or diets, in spite of your busy, hectic schedule… and still can't experience the changes in health and energy you'd hoped for?
The digestive system is quickly becoming one of the health world's #1 targets for overcoming and improving health today, and it's at the very root of all well-being in general. Without a thorough focus on how your body assimilates foods, health supplements and even medicines, any amount of effort you place on eating better, more nutritiously, or taking control of your life will fall short! There is a re-surge of interest in healthy foods and herbs these days, along with many other natural remedies and clean eating tips, proved to turn your wellness and energy around. But without making a healthy gut a priority, a lot of these wonderful new explorations and discoveries might be rendered less effective. Only through empowering digestive health can we truly grab the reins of energy, happiness and nutrition from foods and herbs – and you can experience all the knowledge you need right here in this book!
Why you must have this book:
o Learn about how the digestive systems works, how it is at the very root of health everywhere else in your body, and the major macronutrients vital to maintaining a healthy gut
o Learn how to make use of nutrition information, knowledge, and wise, naturally-informed eating tips that build up your health, rather than create more symptoms
o Read about how a plant-based, fiber-rich diet with less refined fats can turn digestive health around
o Explore and experience the author's own personal journey in turning her gut health around, in the face of common modern-day food sensitivities and allergies
o Learn what various digestive symptoms are telling you, what major diseases they could lead you towards, how to avoid them and more about what major digestive disorders to watch for
o Introduce yourself to a wide variety of healing, digestive herbs to enhance gut strength, nutrition, and gastro-intestinal health
o This book will help you to understand how plant-based probiotics like kimchi, kombucha, and shrubs can boost intestinal health
o Understand better how intestinal flora and healthy bacteria in the gut are vital to digestion and great nutrition
o This book will give you confidence to create your own healthful journey: let these tips inform your own unique path, tackle your own digestive issues, and come up with a nutritional and herbal approach to bettering wellness overall!
The benefits you'll receive from 'Healthy Gut Solution':
o How to approach basic nutrition for optimal gut health
o The benefits and effects of digestive and accessible herbs you can use in supplement form
o The wonders of certain vegetables, some of which tout their own digestive, medicinal values
o The importance of changing your lifestyle, routine, and stress outlets to get back on top
o Getting a better grip, perspective, and k