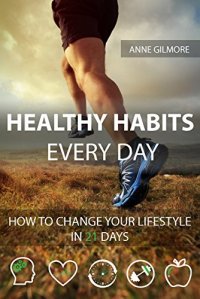 Have you ever longed to be healthy, have lots of energy, and be comfortable with your life.
Well, then, this book is for you. Healthy Habits Every Day was written with you in mind and countless others I have helped over the years. Their stories, perhaps similar to yours, are marked with frustration and confusion at the myriad health advices that are available. None of which appear to be achievable in the busy lives we live.
This book is based on truthful and no-fuss DAILY PRINCIPLES which are easy to implement into our own day to day lives. When you put the habits into practice consistently, you will get the true SUCCESS that is deserved. The simpler we keep things, the more likely we are to stick with any changes we make.
This book is written from a professional approach as well as a personal drive of writing down what I have learnt in class and from personal experience.
When you FOLLOW THE DAY TO DAY HABIT GUIDE within the pages, you will learn:
how to have a smooth life andwill feel the energywill enjoy success that you deserve.
YOU WILL START TO REGAIN THE ENERGY AND THE VITALITY THAT YOU THOUGHT YOU HAD LOST, OR HAD NEVER PREVIOUSLY ATTAINED. IN ESSENCE, YOU WILL REGAIN YOUR SELF-ESTEEM AND, WITH IT, YOUR LIFE.