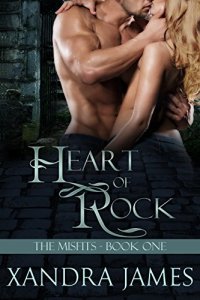 Heart of Rock (The Misfits series, volume one):

A paranormal (light urban fantasy) romance short story with shifters, gargoyles, vampires and witches, set in Scotland.
Trusting a stranger with your heart might just get you dead, but who said love was easy?
A warm body on a night out is all Nina's looking for to cure her loneliness, but a siren song from a merman catapults her toward a man she never dared to dream for again…and a fantastical world which may just blow her mind.
Gargoyle Sam's done with one night stands. He quickly realises Nina's the woman he's been waiting his whole life for. All he needs is a plan to convince her love can strike twice and that he's worth taking a risk on…right after he tells her he isn't human!
But with a ghost from Sam's tragic past stirring up trouble at his bar, The Rusty Nail, he's determined to avenge the loss of his loved ones… even if it kick-starts an unexpected chain of events which will change all their lives forever. Will they be strong enough to stand as one against the potential threat of a vampire war? Or will Nina walk away from love in order to save her battered heart?
**Formerly known as Protecting His Own, Heart of Rock has been revised, extended and re-published as book one of a shifter romance serial**