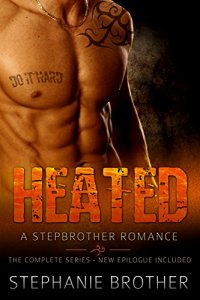 Free on 29th Dec 15 - 2nd Jan 16



or borrow free on Kindle Unlimited.
No reviews yet.
He was a jerk, but she loved him, that was the first problem. The second? He was her stepbrother.
Dante Hix. An alpha male. A billionaire at 21. A God.
Three years already and she still wasn't over him. What the hell was she thinking going back again now?
If she had any sense she wouldn't have, but if she had any money she wouldn't have needed to either. Broke, with bills piling up, there was only one way left for her to turn.
She had to see him.
And then when she did, she knew immediately. It was going to happen again.
He asked her to dance for him, but it could have been anything. Stupid Sash didn't realize exactly what that meant.
All that time later and she was still doing the same. Her clothes on the floor, his body pressed up against hers, her hand on her belly.
A wish.
If she gave him what he wanted, he could never run away.
This is the complete collection of the serialized novel – Giving My Billionaire Stepbrother A Baby and includes a never before released, brand new epilogue!
If scorching hot, taboo romance and head-strong, alpha male billionaires that will stop at nothing to get what they want aren't your thing, please look away now.