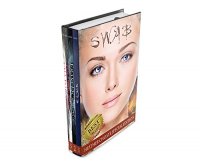 Bargain on 16th Feb 18



or borrow free on Kindle Unlimited.
No reviews yet.
This Special Edition Box Set contains four of Heather Choate's gripping novels including SWAB , Frayed Crossing ,Blackwing Angel , and Fall for You . 20% of all profits from this box set will be donated to UC Foundation Young Women's Breast Cancer Research in an effort to raise awareness about breast cancer in young women and provide support for those currently in the fight. Enjoy the amazing novels and thank you for supporting the fight against breast cancer!
SWAB (A Young Adult Sci-fi Novel)
"I love Ray, but if he's still human, he'll put a knife in my chest."
Seventeen year old Cat has become a scarb— a mutated human whose instincts are now to kill any living human on sight. She awakens from her "New Birth" to find herself trapped inside a scarb colony ruled by a vicious queen who is intent on using Cat's abilities as a bearer to raise up an army that will crush any remaining humans. But Cat sill remembers what it is like to be human. She desperately clings to the love she has for Ray, who escaped from the colony before Cat could know if he turned scarb, or remained human. She must decide if she's willing to risk her life, and the lives of those she loves, to challenge the queen and pursue a man who could kill her now that she's become everything he hates.

Swab delivers equal parts suspense and romance, delving into the clash between survival and morality set in a future with jarring parallels to our present. Perfect for fans of The Hunger Games and Divergent, Swab is the gripping story of a fresh dystopian world that explores the power of choice over destiny and the decision to love despite differences.
Check Out What Others Are Saying about Heather Choate's books…
"I am so glad to have read this book. I read a lot and it's not every day that I come across a book with a unique plot line. This book really had my interest and I could hardly put it down. This action packed book follows Cat's journey in retaliation against the scarb, who have tragically taken everything from her. I kept trying to predict what was going to happen but this plotline kept me guessing.

I was delighted that this book not only contains thrilling adventures but at its core is a beautiful romance. What impressed me was the way that the characters came alive. I felt like I was right there with Cat battling the scarb. Beyond the action in this book there are also some important lessons that the reader can learn from. Perhaps most interesting to me was the theme of one's sense of self and their inner strength. I can't wait for the sequel!" — Louisana
"A great novel. Heather Choate weaves a sci-fi tale that you will get lost in. She transports you to a new world with the descriptive language. Characters become friends, you root for the society she's created and can't put it down for one second. Everything you want as a reader, Heather Choate delivers. Loved it and can't wait for more from this author" — Jason Clark
"Heather has masterfully and skillfully weaved the imagery of an entirely new kind of world, rich with entrancing and vivid details and an awesome plot. Every time a chapter ends, I absolutely had to find out what happens next. With just the right mixture of emotional drama, action, and a story that sucks you in with every change of scene, I am beyond anxious and excited to find out how the sequel turns out. If someone makes a movie out of this, I will be at the theater hours before the box office opens to get the best seat. If you liked Hunger Games, Harry Potter or the Mortal Instruments series, this is just as unique, exciting, and original if not more!" — Thepulsiphyer