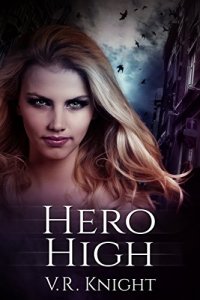 Free on 29th Sep 14 - 1st Oct 14


No reviews yet.
Young Adult Fantasy Best Seller

J.J. is a 17 year old girl who has no idea just how powerful she really is. When her parents send her off to a mysterious boarding school she's never even heard about, let alone contemplated attending she is put in a situation where she will learn more about herself that she has ever imagined. Forced to redefine her life within the walls of Hero High, she quickly makes friends with Aria, a bubbly girl who can see the future and Stefan, the hottest guy she's ever met. But wait… there's another hottie who has his eye on J.J., problem is; he lives on the dark side. Will J.J. will discover what true love is in this coming of age? What other secrets hide within the walls of "Hero High"? Purchase your copy today and find out! This is an enjoyable and thrilling young adult fiction best seller that will keep you on your toes the whole time. Definitely a MUST read for everyone!
"Hero High" is a young adult fantasy novel made up of about 46,000 words and around 211 pages. This fantasy and paranormal book is recommended for teens, young adults and up.
REVIEWS
"I loved this book. it is sweet and charming and filled with magic. It is a delight to read and one of the best I have read. It has intrigue and mystery, powers and romance, and the bonds of true friendship. The characters are so well defined and perfect for this story. I love J.J. and Aria, they are ideal best friends and I love the simple trust they share. The details are tremendous and made me feel like I was right there. This would be a wonderful movie. It is written with a smooth and creative flow and very easy to stay with. I love this author, V.R.Knight, what a vivid and amazing imagination and a real gift for writing. I want more. I definitely recommend this book to everyone. It is a blast to read." 5/5 Stars Paige Turner
"High school with super powers. What could go wrong? That's the premise of this book, but it's also much more. There is drama and action and a finely crafted world. I loved J.J.'s spunk and her power set or controlling the four elements, which also makes her the most desirable person by the forces of darkness and light. The characters were great, with lots of humor thrown in. This story brings to mind x-men, harry potter, and twilight all meshed together. Fully of hot guys, awesome powers and a sinister villain, this ranks as one of my top favorite books. Great read!" 5/5 Stars Jamie
"Fellow gifted teenager Aria Starks and they find themselves quickly discovering new truths about their powers and the world around them. There's much more than science and English to be learnt at Hero High." 5/5 Stars Sam G
"…. The novel is a highly fun, interactive young adult novel that mixes an engaging plot with high enjoyable characters to create an experience that both is an easy read to get involved in as well as a pleasureful novel….Hero High is a great novel that tells an engaging story centered on a highly engaging main character JJ. Hero High is essentially a newer hipper adaption of X-Men or Sky High." 5/5 Stars Paris Carter