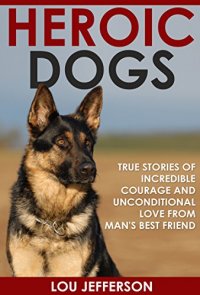 Meet incredible dogs that went beyond what is expected of a man's best friend. They have shown extraordinary courage and unconditional love for their human companions. Read about their astonishing journeys.
Download FREE with Kindle Unlimited!
Dogs and humans have lived together for over 20,000 years. This is a book of true stories about actual dogs, the humans they knew, what they did ? and what happened to them, including:
?The men and dogs who saved the children of an Alaskan town from a killer disease
?The men and dogs who ventured to find the North and South Poles ? and the crazy lady who instigated the expedition to travel around the world from top to bottom and back, going across both Poles.
?How French poodles Winkie, Chinka, and Mickey helped save 150 men from the Nazis
?The exploits of two incredible American dogs in World Wars I & II
?One of the first Seeing Eye dogs in the United States
?And Barry, the dog who saved travelers in the Alps … and began the St. Bernard breed
Read on your favorite devices such as Kindle, IPhone, IPad, Android cellular phone, tablet, laptop, or computer with Amazon's free reading Kindle App.
Scroll back up and click the BUY NOW button at the top right side of this page for an immediate download!