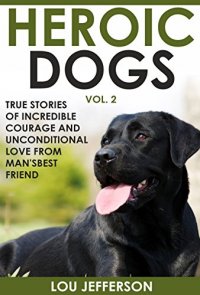 True dog stories that will inspire and warm your heart. These incredible dog heroes have demonstrated acts of bravery, courage, and intelligence beyond and above what you would expect of man?s best friend.
Ask pet owners how they feel about their companions and you will no doubt be met with descriptions of love and adoration. We have a special bond with our pets, and this is especially true with our bond to dogs.
Throughout history, dogs have been our faithful companions. Whether it is for hunting, protection, sport, or companionship, the relationship between people and dogs is one that is unprecedented anywhere else in the animal world. They are more than just pets; they are loyal companions, and in some cases, they are lifesavers.
In this book, you will read about twelve of the most amazing heroic dogs in recent times. Each one has impacted the lives of humans in truly incredible ways. Each of these dogs comes from a different beginning and environment, but they all have something in common: incredible intuition and protective instincts. Read on to learn about these amazing creatures and the almost unbelievable ways that they have saved the lives and spirits of humans.
Meet the dogs in this book:
Katrina, Hurricane Katrina Savior
Ginny, a fearless Rottweiler, saves paraplegic from burning truck
Trakr, breaking boundaries and saving feline lives
Belle, making calls to save lives
Duke, most loyal babysitter
Noah, canine shields, and life save
Treo, the decorated war hero
Kiko, the canine surgeon
Yogi, saves the day after a tragic bike accident
Xana, shelter dog brings life to autistic boy
Tobu, Heimlich miracle
Scroll back up and click buy for an immediate download. Start reading now on your Kindle, iPhone, IPad, Android cellular phone, tablet, laptop or computer with Amazon's free Kindle app.