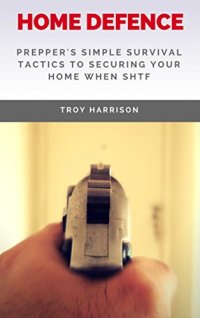 Free on 29th Mar 17 - 2nd Apr 17


No reviews yet.
LEARN HOW TO PROTECT YOUR FAMILY WHEN ATTACKERS ARE TRYING TO GET INTO YOUR HOUSE
Are you prepared for an attack of multiple hostiles on your home? Are you afraid you´re going to freeze up, not knowing what to do when you hear looters approaching your house? Do you know how to reinforce your doors, windows etc. to stay safe?
In my book Home Defense: Prepper's Simple Survival Tactics To Securing Your Home When SHTF I will teach you all you need to do to keep your family safe from attackers and natural disasters like earthquakes and tornado's. .
No experience is required. If you can follow instructions, you will be ready for a catastrophe in 7 days. .
In this book you will learn:
How to recognize a SHTF scenario
How to strengthen your windows, doors and other entrenches
What home defense resources you need to buy (firearms, alarms, dogs etc.)
What to stock up on to survive for months, without leaving the house
How to build a secret hiding place/safe room
How to create booby traps to demoralize intruders
How to strengthen and protect your home from earthquakes and tornadoes
+ FREE BONUS
Much more…
Everything is taught step-by-step and you can get started preparing yourself right away.
Are you ready to protect your home from attackers?
Press the "BUY NOW" button and download the book right away & buy the paperback version, so you have it ready once SHTF!
Tags: Survival, prepper, preppers, emergency, homemade tools, prepping, defense, survivalist, bush craft, doomsday, disaster, DIY weapons tools, military tactics, urban defense, home defence, prepping, military tactics, shooting tactics, bunker, home protection, self defense, b.o.b, bag out bag