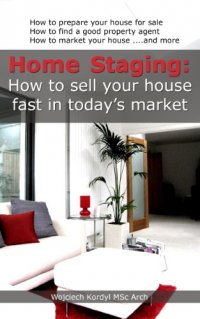 Home Staging: How to sell your house fast in today's market
In 'Home Staging: How to sell your house fast in today's market' you will learn all you need to know to sell your house faster and make more money. According to many property agents, investing a small amount of time and money to properly prepare your house for sale can increase its value by up to 10%. This guide will help you to achieve this – explaining step by step what needs to be done to attract more buyers, get a better price and sell quicker. There is no need for long and dull scientific books over 1000 pages, complicated property market analysis, history of staging and unnecessary information – here you can find everything you need presented in a concise and easy-to-follow way.
Contents:
Step 1 – How to prepare your house.
Step 2 – How to find a good property agent.
Step 3 – Setting the price and time.
Step 4 – How to market your home.
Step 5 – How to show your home.
Step 6 – Closing the sale.
Checklist.
About Author
Wojciech Kordyl is an architect, designer and a property consultant specialising in the residential sector. He obtained his Masters Degree in 1999 and with nearly 15 years of experience gained across Europe, especially in countries like Ireland and UK, gained a wealth of experience and an in-depth knowledge of the property market.

As part of his profession he works closely with solicitors, bank valuers and property agents but most of all he advises in buying and selling property, preparing property reports and valuations, snag lists and advising on how to prepare the house for sale.

This is his first e-book trying to summarize his experience and provide a simple to read and easy to follow guide for people interested in selling their property without unnecessary delay and for the maximum possible profit .
Download your copy today!