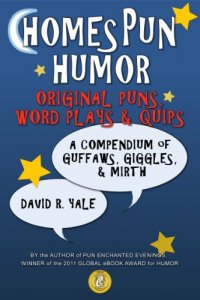 This winning combination of very funny puns and clever satire is the latest collection of wordplays from Champion punster David R. Yale, whose earlier book, Pun Enchanted Evenings, won the 2011 Global eBook Award for humor.
Yale's collection of 823 wildly original word plays includes droll daffynitions that turn your understanding of common words insight out, and playful pun stories with priceless PUNchlines.
Covering almost every subject from airplanes to zoology, Yale's puns about doctors, relationships, cats & dogs, lawyers, teenagers, food, knights, Greek gods, writers, farmers, bankers, politics — and lots more — guarantee a full 1,000 gigglebytes of belly laughs.
In addition to Yale's puns, and information on new scientific studies proving the mental superiority of punsters, HomesPun Humor showcases the work of 16 of the world's best punsters, including O. Henry Pun-Off, Punderdome®, and Punsr champs!
Further, HomesPun Humor reveals confidential insider information you won't find anywhere else:
• The secret of efficient hay farming. (Slow mow shun!)
• The name of an opera about smiling cows. (Low-and-grin!)
• Why the army won't serve second helpings of ice cream. (That would be re-treating!)
• What must you never plant on a green roof. (Leeks!)
• Leading doctor's secret for getting over the grippe. (Study French. You'll soon become flu went!)
• What do you call a stolen Venetian boat? (Gone-dola!)
Punsters and language lovers will find it hard to put this book down. But Yale's entertaining style makes it impossible to overdo wit!