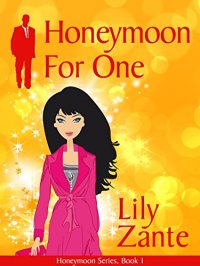 A woman on honeymoon alone, in Verona, the City of Love?
** ON SALE TODAY FOR $2.99 – Books 2 & 3 **

Ava Ramirez has known happier days.

Suffering from fever and all alone at home on New Year's Eve, she is unceremoniously dumped by her fiancé just six weeks before their Valentines Day wedding.
Devastated, she cancels all the wedding arrangements she had painstakingly made over the past year. All except for one.

She decides to go on her honeymoon anyway, alone, to Verona, the City of Love.
Hoping to find inner peace and a clarity of mind with her solo trip to Italy, Ava is even more surprised to find herself drawn into yet another romantic encounter with the mysterious Nico.
But is she ready to handle even more heartbreak so soon?


Scroll up and grab your copy today
Read all the books in the Honeymoon Series:
Honeymoon For One (Book 1)
Honeymoon For Three (Book 2)
Honeymoon Blues (Book 3)
Also available:

Honeymoon Series Boxes Set (contains Books 1, 2 & 3)