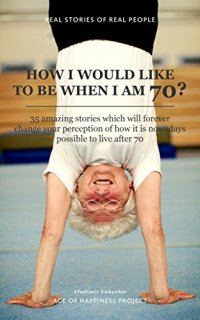 Free on 30th - 31st Mar 15


No reviews yet.
This book appears to be unavailable on Amazon.co.uk at the current time. If this is incorrect, please let us know here
To run a marathon on the North Pole at 70.

To take up ballet at 79 and to dance professionally by 90.

At 75, to enjoy surfing huge ocean waves — in winter, in ice-cold water.

To become a financial broker at 77 and make millions.

To celebrate your 80th birthday by skydiving 80 times in a row.

To become a professional, globe-trotting DJ – at 71.

To swim across the La Manche at 70.

At 78, to zoom on your skateboard through city streets.

To begin a successful career of a young actress in Hollywood, at 71

To cross Atlantic solo at 73 and then to sail around the world on a mini-yacht you built yourself.

To be the top sensation at New York Fashion Week at 80.

To become a porn-star at 68, participate in more than 350 porno-films by 79, and to just keep going.

At 83, to complete the Ironman triathlon, which includes a four-kilometer swim, 180-kilometer bike ride, and 42-kilometer run, all in a row with no breaks.

At 100 to climb skyscrapers.

At 102, to ride 50 kilometers a day on your bike.

At 103 to run the London marathon.
If today you are 30, 40 or 50, then living past 70 and into your late 80s and 90s is no longer just a possibility. It's practically an inevitability. So at some point, you just ought to ask yourself: "How would I like to be when I am 70?"
Because you will be.
For some reason we still believe those who really mastered the secrets to longevity and youthfulness can only be found in hermit caves or monasteries somewhere high in the mountains or deep in exotic forests.

This isn't true.
Such people live among us: in the neighboring house, one street over, in cities that we frequent. We just don't know about them, and because of that, lose an incredible opportunity to learn from them a way of life that just yesterday seemed like absolute fantasy.
I spent the last four years traveling in search of such people; people who refused to age "appropriately" and instead, continued to live – joyfully and brightly, often with more exuberance than they had in their youth. What I saw and learned completely changed my life and ideas about what humans are now capable of during what was formerly known as "old age."
I am a writer, not a scientist. I don't have a scientific explanation for the enormous age-related social changes that are taking place around the world right now. What are they caused by? Some sort of civilization's genetic code? A historically unprecedented improvement in quality of life and health care?
I doubt anyone can really answer these question. But, the fact that such radical changes are happening is hard for anyone to deny.
This book contains real stories of real people.

Read them and your perception of life after 70 will never be the same.
Vladimir Yakovlev