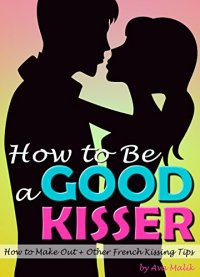 If you want to avoid the most common kissing mistakes and learn how to kiss like a pro, then this book is for you!
Read on your PC, Mac, smart phone, tablet, or Kindle device.
The prospect of kissing someone for the first time is crazy-scary-exciting. For most of us, it marks a step into adulthood, the first validation of our appeal to the opposite sex. That first kiss will go down in your history of "firsts" and you want to be able to recall the memory fondly. I imagined my first kiss to look like the kissing scenes on TV, with a handsome and charming partner slowly leaning towards my coy yet expert lips. But first kisses seldom have the advantage of a seasoned director and cameramen zooming in at precise perfect angles the way they do on TV. By virtue of inexperience and any real knowledge, my first kiss was awkward and clumsy. But yours doesn't have to be! By learning how to kiss – and how NOT to kiss – in advance and prepping for that special moment, your first kiss can be oh-so-much-more graceful and sophisticated than mine was. For this short read, I'm going to be your personal kissing coach. We'll leave no stone unturned, and by the end of the book, you'll kiss like a pro. Sweet, yet smooth; excited, yet confident; romantic, yet racy. So pucker up and let's get started!
Here Is A Preview Of What You'll Learn…
A Non-Negotiable Requirement of Any Good KissThe 5 Most Common Kissing Mistakes (in Detail)Fixing Those 5 Kissing Atrocities, and Kissing Like an Expert InsteadProper Timing and Intensity LevelsWhat to Do With Your HandsThe Best Kiss I Ever Had: Breaking it Down for EvaluationA French Kissing "How-To" GuideMuch, much more!Download your copy today!