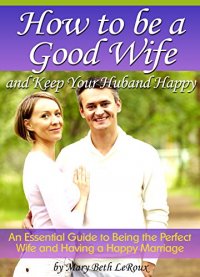 Free on 17th - 21st Dec 16



or borrow free on Kindle Unlimited.
No reviews yet.
If you want to learn the secrets to a happy and successful marriage, then this book is for you!
Read on your PC, Mac, smart phone, tablet, or Kindle device.
There's no question as to the importance of a man keeping his wife happy (AKA the "happy wife = happy life" (theory), but let's not forget that in marriage, it takes two to tango. We are only one half of the equation, and the person we married is the other half: our husbands. And in order to have a happy marriage, both sides of the equation need to be balanced. Oddly enough, in many cases of broken marriages, wives reported to have been taken completely by surprise. They never even suspected their husband to be unhappy until the day he asked for a divorce. It's important that you try to stay in tune with your husband's emotional wellbeing so as to avoid such a scenario. Taking care of our marriage is not merely about keeping our husbands happy, but it's also about keeping our family intact. When marriages are broken, children are also affected. This is yet another reason to keep your husband's happiness on your radar, and make sure you treat him as a priority.
Of course being a good wife requires a lot of effort, especially the type of effort you must exert, for example, to hold your tongue or to change your way of thinking. But once you persevere and you begin to feel the positive changes take place in your marriage, chances are you will feel even more invigorated and energized than you've ever felt before. This book is for all the strong women out there who are willing to take the necessary steps for the betterment of their marriage and family, knowing that it may not always be easy. If you apply the principles divulged in this book, I guarantee that you will love being married again, and that your husband will feel like a very lucky man. Let's get started!
Here Is A Preview Of What You'll Learn…
Determining if Your Husband is UnhappyEffective Communication – SOSBreaking the MonotonyThrowing Away the ScoreboardThe Key to His HeartMuch, much more!Download your copy today!