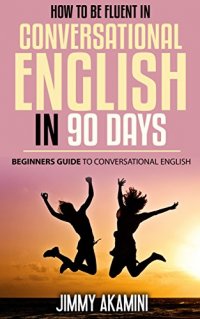 Free on 15th - 16th Feb 16



or borrow free on Kindle Unlimited.
No reviews yet.
Use these powerful fluency secrets to eliminate your English speaking fears.
Are you a non -native English speaker and have struggled to have any form of English discussion with anyone? Are you terrified to speak English to any native speaker? Than this book is written for you. This book will give you a step by step 90-days guide with tested techniques and strategies on how to remove fear, find the time and have a decent and fluent English conversation in 90 days.
Here, you will learn about developing your mindset, how to manage your time, the psychology of linguistics and many other techniques on how to have a fluent conversation in 90 days. You will also find methods and resources used by successful language learners to help you on your 90-day journey to fluency. In this book, you will also find the modern spaced-repetition technique, where you can memorize hundreds of words a week in just a few minutes a day.
While taking you through these tried methods, you will be engaged in integrated exercises from Chapter to Chapter to hone in your speaking skills. The book provides everything for you but there is only one thing that is needed from you. Buy the book now in order to find out what is needed from you to ultimately get your 90-day fluency goal.
With this book, you will have no more frustrations and struggles and will boldly speak fluent English to any stranger at the end of 90 days.
Here's a preview of what you will learn
Preparing a scheduleChoice of contentResource planningMnemonic learningSpaced repetition techniqueAnd much much more
Dont miss this chance so get this Kindle Book for only $0.99!