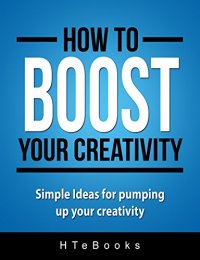 Bargain on 29th Aug 18 - 2nd Sep 18


No reviews yet.
LEARN TODAY: How Tu Pump Up Your Creativity
In today's modern creative economy, one of the most critical skills to possess is being creative. People who are creative are marked by their dedication to their craft, their patience, their ability to think outside of the proverbial box, and their willingness to take risks. These traits are essential not only in completing artistic pursuits, but also in forging greater happiness in your life.
WOULD YOU LIKE TO KNOW MORE?
THEN DOWNLOAD NOW: AND LEARN ABOUT…
Lending Appreciation to the Value of Creativity
Identifying the Traits of a Creative Individual
Identifying the Challenges that Hamper Creative Growth
Creating a Sense of Self-Awareness
Living Outside of Your Bubble
Understanding the Perils of Perfectionism
Aiming for Sustainability
Promoting a Healthy Body for a Healthy Mind
Doing Away with the Fear of Failure
And Much More
SCROLL TO THE TOP OF THE PAGE AND SELECT THE BUY BUTTON NOW.