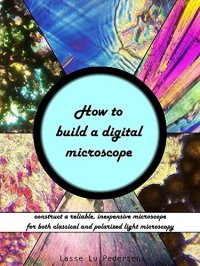 Free on 28th - 30th May 19



or borrow free on Kindle Unlimited.
No reviews yet.
The microscope is the most important tool in the microbiologists toolbox. Nowadays, several companies sell very well made microscopes, but such a luxury was unknown to the earliest microbiologists. They had to build their own microscopes, and many advancements to the science of microbiology were made by people who managed to improve on their own private microscopes.

While basic models have become increasingly affordable in recent years, purchasing a digital microscope can still be a substantial investment – and one that many interested individuals, families, and schools are unwilling or unable to make. Fortunately, it has also become increasingly easy to get the parts for building your very own microscope at a price that is more approachable than that of commercial microscopes!
In 'How to build a digital microscope' you will learn how:

– the core parts of a microscope works

– you can find inexpensive parts for your very own microscope (the core optical and digital components of the cheapest digital microscope presented here can be had for less than $5 at eBay)

– you can build your own version of the classical bright field microscope or even a polarizing light microscope which can be used to study minerals and crystals and produce colorful and incredibly beautiful images of crystals at home!

The microscope designs presented here offer x100 and x250 magnification and can be made using a webcamera which connects to a computer using USB, or you can opt for using a smartphone to view and record the images.
A cheap homebuilt microscope can be extremely good value for money, it will let you explore microscopy at a budget, and building it can be an entertaining and educational project for a family or a young aspiring scientist who gets help from an adult.