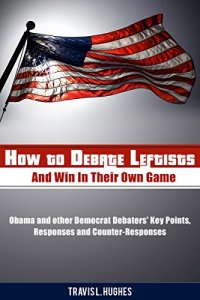 Free on 20th Apr 15



or borrow free on Kindle Unlimited.
No reviews yet.
Learn how to debate leftists and democrats and win – in their own game!
Free bonus inside! (Right After Conclusion) – Get limited time offer, Get your BONUS right NOW!
This book contains detailed steps and strategies on understanding what it means to be a leftist, what you can do to debate a leftist, and how you can come out as a winner of the debate.

The rules of a traditional debate do not apply when you are debating a leftist. Leftists have different ways of viewing issues, and these are often extremist and geared towards making changes. With these types of views, they will address anything that you want to bring forth as wrong.

In a debate, the leftist is determined to win, and the easiest way for them to do so is to weaken your argument and your character. They start their argument aggressively, and often use a variety of tactics to distract both judges and the audience from the actual point. Being able to see through their tactics will help you win any debate with a leftist.

In order to understand the way a leftist operates in a debate, this book is divided into the following sections: –

The Traditional Debate

Understanding the Leftist

Know how your Opponent views you

Debating the Leftist – Preparation

Debating the Leftist – During the Debate

Debating the Leftist – Break Down their Approach
Once you go through these steps, you will get a deeper understanding of the leftist – what drives them forward, what is their ultimate objective and how they present themselves. With this understanding, you will be better able to prepare for your next encounter with a leftist – and to come out on top.

This book simplifies the process of the debate, which will go a long way when you prepare you game plan.

Read ahead and use the detailed information in this book before you go for your
***Limited Edition***

Download your copy today!