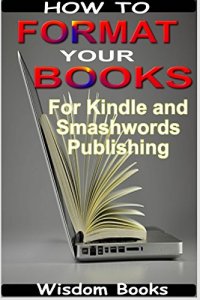 This simple picture guide, How to Format Your Books for Kindle and Smashwords Publishing will show you in simple, picture steps how you can begin to format your books for Kindle and Smashwords. You don't need to be scared of this task again and you don't need to hire anyone to do it for you.
These publishing platforms offer authors the chance to self-publish their books at no cost but the book formatting part has kept most authors away from using these platforms as much as they would love to.
Yes it is the hard part and most people find it difficult getting this done. Well I have close to 100% success getting my books published on these platforms so I believe I am qualified to teach you.
This guide will show simple, baby steps you must begin to take to get around this. I have read the articles and guides on several websites but I believe it will be extremely difficult for a newbie to use those guides to get their books correctly formatted. So I have presented a simpler route and achievable for you with this picture guide.
Please get a copy.