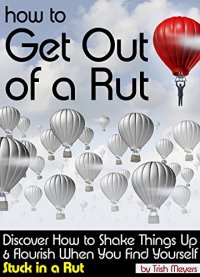 If you find yourself stuck in a rut and wanting more out of life, then this book is for you!
Read on your PC, Mac, smart phone, tablet, or Kindle device.
Life can sometimes seem as if it's not progressing, not cooperating – no matter what you do. Discontent and despair can sometimes zap the energy out of even the most enthusiastic of people. And while it is normal to 'feel stuck' every now and then, the truth is, it's not doing you any good when you allow yourself to stay stuck. You've got to pull yourself out of this rut, challenging life and your circumstances. You've got to take control!
But you already know this. Problem is, you haven't yet discovered how to pull yourself out of the rut. Not to worry though, that's exactly what this ebook was designed to help you with. I'm going to walk you through the process of figuring out what you really want, and how to go for it. You will learn how to infuse enthusiasm and zest back into your life with tips you can apply right away. With this book as your guide, your mornings will be inspired and you will confidently smile back at life's challenges – or give them the middle finger if that's more your style. Either way, let's get started and get you out of this rut without another minute's delay.
Here Is A Preview Of What You'll Learn…
What Causes the Feeling of Being StuckHow to Figure Out What You Want and GO FOR ITWhat To Do When You're Feeling Uninspired and UnmotivatedPractical Tips to Develop a Positive MindsetHow To Be AccountableMuch, much more!Download your copy today!