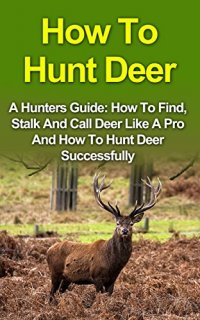 Free on 14th - 18th Sep 15


No reviews yet.
This book appears to be unavailable on Amazon.co.uk at the current time. If this is incorrect, please let us know here
How To Find, Stalk And Call Deer Successfully For Beginner Deer Hunters!
Today only, get this e-book for just $2.99. Regularly priced

at $4.99. Read on your PC, Mac, smart phone, tablet or Kindle device.
You're about to discover how to hunt deer successfully, track and ethically kill a deer. Deer hunting is an incredibly popular sport all over the world but none more popular than in America. Especially the white-tailed deer.
Whether you want to use a gun, bow and arrow or muzzle loader we cover specific kinds of shots for each weapon in this book. We also cover how to find the deer in the first place by looking for tracks, sign and evidence of deer movement.
How about hunting from tree stands? We cover the best kind of shots to take from a tree stand and how to be patient. When hunting deer, different shots will present themselves all the time, it's up to you as a hunter to know which will be the best shots and the most effective way to bring down a deer.
Of course we cover all this and more in this "How to Hunt a Deer" book. If you have been wanting to get into deer hunting but don't know exactly where to start then this beginners guide will help you to become a proficient deer hunter as soon as possible!
Here Is A Preview Of "How To Hunt Deer" And What You'll Learn…
How To Hunt Deer – How to Find a Great Hunting SpotHow To Hunt Deer – How to Choose Your Hunting WeaponHow To Hunt Deer – Getting into the Woods HuntingHow To Hunt Deer – How to Scout and Track a DeerHow To Hunt Deer – The Different Types of Deer Hunting and Which is Best for YouHow To Hunt Deer – The Different Types of Shots You Will Have to MakeHow To Hunt Deer – How to Use Trail Cameras to Your AdvantageHow To Hunt Deer – Parting Advice on Bagging Your First DeerMuch, much more!

Download your copy today!
Take action today and download this book for a limited time discount of only

$2.99! If you want to get into deer hunting and learn all the basics, then download "How To Hunt Deer" now!
Tags: how to hunt deer, deer hunting, deer hunting tree stands, camouflage for hunting, how to hunt deer with a bow and arrow, how to hunt deer with a muzzle loader, how to hunt deer with a gun, deer hunting advice, bow hunting for beginners, deer hunting for beginners,