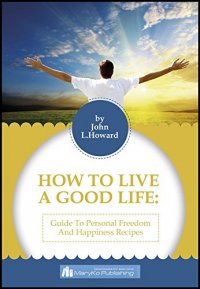 Free on 10th - 14th Mar 18



or borrow free on Kindle Unlimited.
No reviews yet.
What is a good life? What is real happiness? What is success? What is pleasure? How should you treat other people? How should you cope with unfortunate events? How can you get rid of unnecessary worry? How should you handle liberty?
Living a good life depends on what matters to you. Take the time to define your values, priorities, and goals in your life. Work to fulfill the desires you want to achieve. Build your relationships and be good with your family members and friends. Serve your community and mankind and stay true to yourself. Nothing goes for anything, if you want to live well, you should work to achieve this. The main thing in life is not salary. The main thing in life is not a Mercedes. The main thing in life is not a million dollars or a bank account or a home. I believe that the important thing in life is to live well.
That's the question you should be asking yourself constantly, "What does a good life mean for me?" And you have to look constantly for an answer. The good life must include spiritual, economic, health, relationships and recreation. I will say briefly that in my concept is a good life.
Of course, the phrase "good life" has different meanings for each of us. Awesome affluence, a sufficient amount of warmth and love, good health, long years of life – that's a sample list, which is every person is ready to give to answer the question "what is a good life?". All people are different, but the thoughts and desires are often the same, and it's not surprising, because everybody wants health, happiness and wealth.
Economic problems begin when you want more, but do less. And the main thing in life is not a salary, not a cool car and not a million dollars on account. The main thing in life it's a tranquil inner world and a stable outer well-being. This is the good life. So what are the rules?