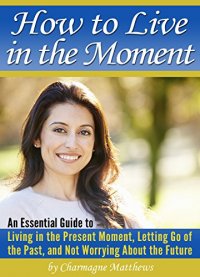 Free on 31st - 2nd Apr 22



or borrow free on Kindle Unlimited.
No reviews yet.
If you're ready to stop worrying so much and learn to live in the present, then this book is for you!
Read on your PC, Mac, smart phone, tablet, or Kindle device.
In today's hectic and busy world, the idea of being free of worries seems like an impossible fantasy. We have taxes to pay, bills to take care of, a roof to keep over our heads, and the corporate grind to deal with. The alternative is to live in a tent on some isolated island somewhere and forage off the land… though come to think of it, even that comes with its own set of worries, doesn't it? Of course, in small doses, worrying is not necessarily bad in itself. When it's a consistent presence filling your life with dread however, then that's another thing entirely. There's a vast body of medical evidence proving that constant worrying can lead to a whole host of mental, physical, and psychological problems. The good news is that for those who refuse to accept living in a constant state of anticipation and anxiety, there is a way! And yes, it's actually doable and it really works. It's all about living in the present moment and dealing with each situation as it arises. Millions, if not more, have perfected different methods of living in the present moment throughout the centuries — techniques which more and more Americans are discovering and benefitting from. This book distills those methods into simple, easy-to-do exercises which require no special equipment or expense. The only things you need are time, desire, effort, and practice.
Here Is A Preview Of What You'll Learn…
Change Starts with Your AttitudeSharpening Your Focus Towards Your DesiresLearning to Understand Your CenterUsing the Breath to Focus on the NowExercises to Practice MindfulnessMuch, much more!Download your copy today!