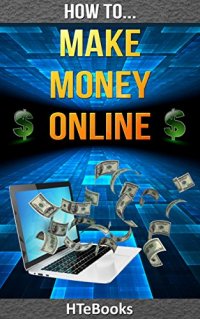 How To Make Extra Cash Online?
This book will guide you through the vast array of options available and how to make the most out of them. You'll be amazed by the many ways that you can make use of your talent, passion and time to earn extra bucks for you and your family. Some people even turn these into full-time jobs and earn more than their eight-hour office routine! This might just be the break you were looking for. Go on and discover a whole new world of profit!
Would You Like To Know More?
Then Download Now: And Learn How and Why …
You Need Extra MoneyThe Internet is a Money Garden Waiting for YouBefore You Go Full Throttle: Learn to Protect YourselfValue in the Smallest EffortsPay-to-Click Sites (PTC)Paid SurveysSocial Media AdvertisingGet Paid for Your ReviewsTurn Passion to ProfitBloggingFreelance WritingE-Book PublishingHandmade LoveKicking Things up with KickstarterWhy Not Sell Yourself?Technical Knowledge Need Not Go to WasteWeb Industry FreelancingThe Art of Domain FlippingThe Era of Mobile AppsBookkeepingStock TradingLook Around You: Offline Items for Online ProfitsIf You're Done With It, Sell It!And Much Much More
Check Out What Other People Are Saying…
*) "How to make money online? Well before you can get the answer to that question you first need to learn how to protect yourself. There are many scammers online, and misleading information. This book helps you with some good advice to avoid this kind of problem." – Rafase282
*) "I have chosen to give this book a 5 star rating because it goes over a lot of various ways of making money online that can be very lucrative. You will have no difficult of finding a particular way of making money that is ideally sorted to you because there is so many and I can vouch for that as I have started to make passive income using several of these income streams!" – Fred Clark
*) "This book was very interesting to read and I got a lot of ideas from it. I am curious about what a lot of people are doing on the internet and this books explains some of the practical things about getting it done. I found the book informative, practical, and rife with highly usable information. I've recommended it to a number of people and will continue to do so." – Stuart Powell
What are YOU waiting for?

Download NOW!

And start making passive income ASAP!
Tags: how to books, how to ebooks, how to, kindle short reads, how to make money, how to make money online, money, passive income.