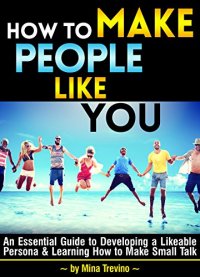 Free on 29th Jun 19 - 3rd Jul 19


No reviews yet.
If you're ready to improve your ability to make friends, form new relationships, and create meaningful connections with other people, then this book is for you!
Read on your PC, Mac, smart phone, tablet, or Kindle device.
It can sometimes seem difficult to make small talk. When most people think of small talk, they think about conversations that are shallow or unimportant, perhaps involving the current weather patterns. And while the weather can indeed be a topic brought up in casual conversation, this type of discussion is not the most effective way to make use of your time, unless the person you're speaking with happens to be extraordinarily interested in meteorology. The purpose of this book is to transform you into a more likeable person. We're going to do this in party by redefining the idea of small talk, and helping you learn how to use it as a mechanism to form new relationships and refine your external personality into one that other people naturally want to spend time around. Every engagement you have with someone new should be an opportunity for personal or professional growth and an opportunity to make meaningful connections. There are countless valid reasons for using small talk to form these new relationships, and it's important to understand that the art of small talk does not need to be generic in nature. In order for it to be the most effective, you should strive to make conversation that's unique to each person you approach. Small talk is about engaging your audience, being entertaining, and being likeable. This book is going to teach you how to effectively do just that.
Here Is A Preview Of What You'll Learn…
Proper Conversational EtiquetteSelecting a Topic of ConversationHow to Ask People About ThemselvesThe Art of Listening and SpeakingHow to Have a Strong FinishMuch, much more!Download your copy today!